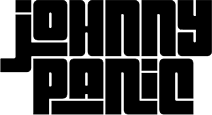 // LATEST NEWS
NEW ALBUM RELEASED TODAY
26 September 2011
The new album from Johnny Panic was released today is now available to buy.
download
New Single - World Around You
16 September 2011
The new single from Johnny Panic is now available to buy. World Around You was released on Monday and can be downloaded from iTunes. download
New Album Release Date
16 September 2011
The new album from Johnny Panic will be released on 26th September 2011. Pre-order from Amazon now. buy now
The Blinding Heights Podcast
08 April 2011
Johnny Panic will be appearing on this weekend's Episode 15 of The Blinding Heights Podcast featuring the song "Coming Up Roses". The podcast will air on Sunday the 10th, here is the link www.WillBlack.com/podcast
Johnny Panic Return To The Stage
11 January 2011
Johnny Panic have their first gig of 2011 on the 4th of February at The Old Tigers Head Pub in Lee Green. Doors open at 7pm. £5 entry (over 18 only).
ALBUM TITLE & LISTING
29 June 2010
The 3rd Johnny Panic is album is called 'Ritual Riots.' It has 13 tracks. 1. The New 45 2. The Junk Man 3. It Ends Here 4. Our Town 5. Stop Kicking 6. This city 7. Everything will change 8. Alright alright 9. Calling me 10. The change won't come 11. Too far gone 12. World around you 13. To the end
3rd ALBUM TITLE
23 June 2010
THE 3rd JP ALBUM WILL BE MASTERED NEXT TUESDAY 29 JUNE. THAT EVENING WE WILL REVEAL THE TRACK LISTING AND TITLE. ONLY 13 OF THE 19 RECORDED WILL MAKE IT ONTO THE ALBUM.
3rd Album Complete
21 May 2010
The 3rd JP album was completed yesterday 20 May 2010. The title and track listing will follow in the next 2 week.
ROB ACOUSTIC SHOW
19 April 2010
To keep a foot in the live arena before JP embark on some summer shows Rob will play an acoustic show on Friday 7 May at the River Bar, Tower Bridge rd, the scene of the last 2 Christmas Shows. Entry is £5 and they are several other acoustic acts on the bill. The 3rd album final mixes will happen in May and the album will definately follow in June.
6th CHRISTMAS SHOW ANNOUNCED
01 December 2009
At last we can announce the details of the 6th annual JP Christmas show. Wednesday 16 December at The River Bar, Tower Bridge Road. London. Same place as last year. £5 entrance Fee. We will be the only band playing so we hope to start at 8.30pm and play for an hour. Then grab a drink with you at the bar before we head home.